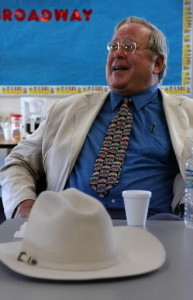 Editorial By:  Brent Larkin was The Plain Dealer's editorial director from 1991 until his retirement in 2009.  Photo at left:  Akron businessman David Brennan, founder of White Hat Management, with his trademark white hat – The Plain Dealer File Photo.
Given a choice between siding with what's best for taxpayers or contributors, Ohio's Republican-run House will almost always choose the latter.
When it comes to consistently selling out their constituents, House Speaker Bill Batchelder and his crew have no peers. Rare is the occasion when good government bests a good-sized check.