U.S. House of Representatives – Ohio's 11th Congressional District
Congresswoman Marcia L. Fudge is a committed public servant who brings a hard-working, problem-solving spirit to Congress and to the task of creating jobs, protecting safety net programs, and improving access to health care, healthy foods and quality education. She represents the people of the 11th Congressional District of Ohio and is Chair of the Congressional Black Caucus.
Congresswoman Fudge is a member of the House Committee on Agriculture, where she is the Ranking Member of the Subcommittee on Department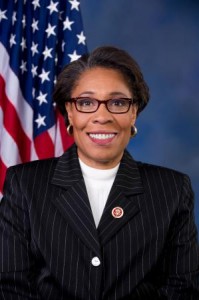 Operations, Oversight and Nutrition, and a member of the Subcommittee on Horticulture, Research, Biotechnology & Foreign Agriculture. She also serves on the Education and the Workforce Committee, and is a member of the Subcommittee on Early Childhood, Elementary & Secondary Education and the Subcommittee on Workforce Protections.  In 2014, Congresswoman Fudge became an original co-chair of the Democrats for Public Education, an organization of Democratic Party leaders firm in the belief that every child deserves access to safe neighborhood schools and well-prepared and supported teachers.
Congresswoman Fudge consistently fights for food stamp (Supplemental Nutrition Assistance Program) recipients, child nutrition and access to locally grown, healthy foods, as well as equitable access to a quality education from preschool through post-secondary programs, fair labor practices, and civil and human rights, among other issues. Congresswoman Fudge continues her commitment to ending childhood obesity in a generation, stamping out hunger, strengthening our education system and promoting job creation. Additionally, she was an early and consistent voice for voter protection.
Congresswoman Fudge has served the people of Ohio for more than two decades, beginning with the Cuyahoga County Prosecutor's Office. She was the first African American and the first female mayor of Warrensville Heights, Ohio, where she led the city in shoring up a sagging retail base and providing new residential construction.
Congresswoman Fudge is a Past National President of Delta Sigma Theta Sorority, Inc., and a member of the Greater Cleveland Alumnae Chapter. Congresswoman Fudge earned her bachelor's degree in business from The Ohio State University and law degree from the Cleveland State University Cleveland-Marshall School of Law.
Congresswoman Fudge's work ethic, problem solving approach, and ability to build collaborative relationships has earned her a reputation among her colleagues in Washington and at home as an insightful leader and knowledgeable legislator. As a dedicated public servant, she begins each morning with a firm promise "to do the people's work." It is this simple philosophy that defines Congresswoman Fudge as a Member of substance and character who always keeps her promise.
Legislative Priorities and Achievements:
Job Creation:
Protecting Voting Rights:
Health and Nutrition:
Protecting Medicare and Social Security:
Education:
Housing:
Rep. Marcia Fudge enjoyed chairing the Congressional Black Caucus
but is eager to move on
Published December 22, 2014 | By Sabrina Eaton, The Plain Dealer
Life should get back to normal for Warrensville Heights Democratic Rep. Marcia Fudge at the beginning of next year.
For the past two years, Fudge has chaired the Congressional Black Caucus, a role that thrust her into the national spotlight as an African American political leader. All the while, she continued to do her regular job representing 32 Cuyahoga and Summit county municipalities in Congress.
The Congressional Black Caucus, whose 43 members were all Democrats during Fudge's chairmanship, calls itself the "Conscience of Congress" and says its goal is to "empower America's neglected citizens."
Leading it put Fudge at the forefront of national controversies on issues such as immigration, voter protection and poverty, as well as congressional squabbles on matters like Senate filibuster rules and whether Democrats should respect seniority when they choose committee leaders. (Click here for a timeline of news Fudge made during her CBC chairmanship)
It also put her in charge of a large congressional voting bloc that mostly votes Democratic, but sometimes deviates. For example, Fudge and many of her CBC colleagues opposed President Obama's request to aid rebels in Syria who are fighting the ISIS terrorist group. Fudge said spending the money "would not make us any safer.
"When we stay together, we are the biggest voting block of any particular caucus," Fudge said of the CBC. "When you consider that we will bring 40 to 45 votes to almost anything we do, we become a huge voting bloc."
Fudge called holding the group's chairmanship a "wonderful experience" that she will always be grateful for, although she's also grateful that her CBC colleague, North Carolina's G.K. Butterfield, will take over the job next year.
"It takes an inordinate amount of time to really get up to speed and stay on target with so many issues and so many people," Fudge said, noting that nobody has ever held the chairmanship for two consecutive terms. "It is good to get new blood every few years. Everyone is excited about giving it up."
Butterfield complimented Fudge's vigorous defense of food stamp funds during her chairmanship, and said he hopes to persuade Republicans to direct more federal resources to communities with persistent poverty problems, many of which are in rural areas represented by GOP Congress members.
"Chair Fudge's work ethic, problem-solving approach, and coalition building has earned her the reputation as an insightful leader," added Assistant House Democratic Leader James Clyburn of South Carolina, the number three House Democrat. "Her legislative priorities have included job creation, protecting voting rights, health and nutrition, protecting Medicare and Social Security, education, and housing."
The GOP view of the Congressional Black Caucus
Black Republicans in Congress are less enthused about the group Fudge leads. The last Republican to join the group – former GOP Rep. Allen West of Florida – said he thinks it doesn't focus on issues that are truly important to the black community, such as school choice, voucher programs and charter schools.
"I think the CBC is just an extension of the Democratic Party and the progressive agenda," said West, who joined the group during his single congressional term, which ended before Fudge became chair. "I would hope the CBC will get a conscience and look at what is happening in the inner city and not just be a political tool of the left but really deal with the issues that ail the black community today."
Although West said he couldn't specifically discuss Fudge's chairmanship because it didn't overlap with his time in Congress, he contends the group should be discussing empowerment zones, restoring the black family, and reducing high out-of-wedlock birth rates among African Americans.
"I think the CBC needs to get talking about the fundamentals that Booker T. Washington talked about – education, entrepreneurship and self reliance," said West. "We don't need a black community that is more reliant on the welfare nanny state. We need to release the entrepreneur spirit in the black community."
Other Republicans are more charitable. In spite of the fact that South Carolina GOP Sen. Tim Scott declined to join the group, a spokesman said he enjoys a healthy relationship with many CBC members and "will continue to look for ways to work together."
House Speaker John Boehner issued a statement that congratulated Fudge on her chairmanship of the Congressional Black Caucus.
"We don't agree on much, but we get along personally and share a desire to do what's best for the people of Ohio," said Boehner.
Black Caucus issues overlap with district, says Fudge
Fudge said taking care of CBC matters took up much of her time in the past two years, but didn't detract from service to her Ohio constituents. She said many issues she pursued as CBC chair overlapped with those she followed on her district's behalf.
For example, she said her office coordinated letters to the Justice Department that sought federal investigations of excessive use of police force in Cleveland and other jurisdictions where unarmed blacks were killed by law enforcement officers. She also worked on legislation to increase the number of Medicaid beds available for heroin treatment and helped secure federal money to demolish abandoned houses in Cleveland.
Fudge spearheaded a congressional letter that urged the Ohio Environmental Protection Agency to reject an Army Corps of Engineers plan to dump dredged material into Lake Erie, and a separate letter that asked Labor Secretary Tom Perez to set a timetable to resolve pension issues involving 20,000 Delphi retirees.
She also helped local entities, including Case Western Reserve University School of Medicine, Babcock & Wilcox, the Greater Cleveland Partnership, the YMCA of Greater Cleveland, and the Greater Cleveland Regional Transit Authority secure almost $1 billion in federal grants over the past two years.
Her congressional district got almost $330 million in grants from the Department of Health and Human Services, more than $122 million from the Department of Housing and Urban Development, and almost $60 million from the Department of Transportation.
Chairing the CBC took Fudge on travels around the world. She led the group on trips to China, Israel and to the funeral of human rights trailblazer Nelson Mandela in South Africa.
Fudge also traveled all over the United States delivering speeches, campaigning on behalf of candidates the group supported, and mobilizing black voters.
Next year, Fudge hopes to work on reauthorizing the Elementary and Secondary Education Act. She serves on two House committees Agriculture as well as Education and the Workforce. She's weighing giving up her post as top Democrat on an agriculture nutrition subcommittee to become the top Democrat on a subcommittee that will draft the education bill.
"I am proud of the work we have done in my congressional office as well as my CBC office," said Fudge. "I think we really made a difference."
Black Caucus colleagues applaud Fudge
Fudge's CBC colleagues are eager to praise how she handled the job.
Maryland's Elijah Cummings, himself a former CBC chair, said he thinks Fudge has been among the group's best chairs. He said she did a particularly good job holding President Obama accountable to the African-American community without alienating those who feared criticizing the nation's first black president.
Rep. Bobby Rush of Illinois praised Fudge for defying House Democratic Leader Nancy Pelosi's effort this fall to buck the seniority system in choosing the party's top committee members. Because many Black Caucus members represent safely Democratic districts, their accrued seniority means a disproportionate number of them are ranking members of House committees.
Missouri's William Lacy Clay applauded Fudge's efforts to help Senate Democratic Leader Harry Reid fight a GOP filibuster to block Obama's political nominees. Clay, whose district includes Ferguson, Missouri, also said Fudge rose to challenges created after a string of unarmed African American men lost their lives to police. He was pleased she put him in charge of a task force to produce legislation to address that problem.
The longest-serving CBC member, Rep. John Conyers of Michigan, applauded Fudge's "courage and thoughtfulness" in a recent House of Representatives floor speech as well as her efforts to stop food stamp cuts and advocate for voting rights and victims of excessive police force
"Chairwoman Fudge has played an indispensable role in preserving the CBC's legacy as the conscience of Congress," said Conyers.