U.S. House of Representatives – Ohio's 11th Congressional District
Congresswoman Shontel M. Brown is a relentless public servant who is committed to delivering results for the people of Ohio's Eleventh Congressional District. She was first elected to the House of Representatives in 2021 and was sworn in on November 4, 2021. She brings a collaborative, dynamic, and problem-solving approach to Congress, where she works to attract jobs that pay fair wages to Northeast Ohio, improve access to affordable, high-quality health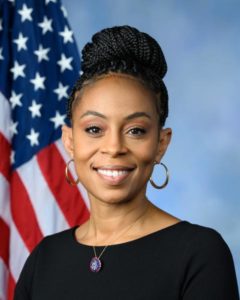 care, ensure equity and justice for all Americans, and improve the quality of life of all people living in her district.
Congresswoman Brown is a permanent member of the House Agriculture Committee, where she serves on the Subcommittees on Nutrition, Oversight, and Departmental Operations and Biotechnology, Horticulture, and Research. She also serves on the House Committee on Oversight and Reform, where she is appointed to the Subcommittees on Economic and Consumer Policy and Government Operations. She is an active member of several Congressional Caucuses, including the Congressional Black Caucus, the New Democrat Coalition, and the Congressional Progressive Caucus.
Across her career in public service, Congresswoman Brown has promised to always put the people first. She continues to keep this promise by speaking out and fighting for solutions on issues of importance to the people of Northeast Ohio. She consistently works to strengthen our public education system, improve the health of children and families, ensure that no American goes hungry, improve protections for Ohio workers, and address the poverty crisis that has plagued her district and others like it for far too long.
A proud, lifelong Clevelander, Congresswoman Brown has served the people of Northeast Ohio for more than a decade. She first entered public service in 2012, when she was elected as a Warrensville Heights city council member. In 2014, she was elected to represent the 9th district on the Cuyahoga County Council, one of the most diverse in the County, with constituents in the City of Cleveland, as well as inner- and outer-ring suburbs. As a County Council Member, she earned a reputation as a proven and unifying leader, drawing job-creating projects to the district, improving access to affordable health care, and supporting public education.
Before her election to public office, Congresswoman Brown worked in the private sector as a marketing professional. She also founded a small business, based in Northeast Ohio, that provides technology solutions to regional clients.
Congresswoman Brown currently resides in Warrensville Heights, Ohio.