WANT
CHANGE

?
TAKE ACTION!
We will be posting important information about legislation that you should be aware of and you may want to contact your legislators about. We will provide you with actions to take by calling or e-mailing your State Legislators or Congressmembers – along with Best Practices and scripts. You must let them hear your opinion on issues important to you! This is easy to do! Let's get started!
You can send e-mails or make phone calls at any time – day or night! You can leave a message on their office answering machine when you call. Staff members will document your opinions and let your legislator know your point of view. Best Practice: A short, concise message; no venting. Best Practice: No matter how or when you contact your legislator, always let them know you are a voting constituent, your name and what your zip code is. If you would like for them to respond back to you with their position on issues, tell them you would like a response and give them your full name, address, city and zip code.
Even if Senator Brown, Congresswoman Beatty, Congresswoman Kaptur, Congressman Ryan or other Congressmembers have already signed onto a bill, please contact them to THANK them for supporting bills you also support! They always appreciate hearing from constituents – especially when on the right side of an issue!
HOW TO CONTACT LEGISLATORS:
Senator Sherrod Brown (D-OH):
By E-mail:
By Phone:
Cincinnati: (513) 684-1021
Cleveland: (216) 522-7272
Columbus: (614) 469-2083
Lorain: (440) 242-4100
Washington DC: (202) 224-2315
Toll Free Ohio only: 1-888-896-6446 (OHIO)
Senator Rob Portman (R-OH):
By E-mail:
By Phone:
Cincinnati:(513) 684-3265
Cleveland: (216) 522-7095
Columbus: (614) 469-6774
Toledo: (419) 259-3895
Washington DC: (202) 224-3353
Toll Free Ohio Only: 1-800-205-6446 (OHIO)
Find Your Ohio – U.S. House of Representatives Member
Not sure of your congressional district or who your member is? This service will assist you by matching your ZIP code to your congressional district, with links to your member's website and contact page. If you know your U.S. Representative, then contact information is provided below.
District #
Name
Party
Office Room
Phone
Committee Assignment
1st
Chabot, Steve
R
2408 RHOB
(202) 225-2216
*Foreign Affairs
*Judiciary
2nd
Wenstrup, Brad
R
2419 RHOB
(202) 225-3164
*Intelligence
*Ways and Means
3rd
Beatty, Joyce
D
2303 RHOB
(202) 225-4324
*Financial Services
4th
Jordan, Jim
R
2056 RHOB
(202) 225-2676
*Oversight and Reform
*Judiciary
*Select Subcommittee on the Coronavirus Crisis
5th
Latta, Robert E.
R
2467 RHOB
(202) 225-6405
*Energy and Commerce
*Modernization of Congress
6th
Johnson, Bill
R
2336 RHOB
(202) 225-5705
*Energy and Commerce
7th
Gibbs, Bob
R
2217 RHOB
(202) 225-6265
*Oversight and Reform
*Transportation and Infrastructure
8th
Davidson, Warren
R
2113 RHOB
(202) 225-6205
*Financial Services
9th
Kaptur, Marcy
D
2186 RHOB
(202) 225-4146
*Appropriations
*Veterans' Affairs
10th
Turner, Michael
R
2082 RHOB
(202) 225-6465
*Armed Services
*Intelligence
11th
Fudge, Marcia L. – Vacancy
D
2344 RHOB
(202) 225-7032
Appointed by President Joe Biden:
U.S. Secretary of Housing and Urban Development
12th
Balderson, Troy
R
2429 RHOB
(202) 225-5355
*Agriculture
*Transportation and Infrastructure
13th
Ryan, Tim
D
1126 LHOB
(202) 225-5261
*Appropriations
14th
Joyce, David
R
2065 RHOB
(202) 225-5731
*Appropriations
*Modernization of Congress
*Ethics
15th
Stivers, Steve
R
2234 RHOB
(202) 225-2015
*Financial Services
NOTE: Resigning effective May 16, 2021
16th
Gonzalez, Anthony
R
2458 RHOB
(202) 225-3876
*Financial Services
*Climate Crisis
*Science, Space and Technology
ISSUES
U.S. Senate:
The Senate is scheduled to vote on whether to move forward with their process to finalize the $1.2 trillion  Infrastructure Bill – legislation that will support "hard" infrastructure like bridges, highways, airports and rural broadband. Senate Republicans blocked a vote on July 21, 2021, to start debate on the bipartisan infrastructure bill on a 49-51 vote – short of the 60 votes needed to advance the bill. Another vote is expected early next week to advance the measure. By a vote of 67-32 – all 50 Democrats and 17 Republicans, the Senate voted to begin debate on the roughly $1 trillion infrastructure bill – advancing a critical part of President Biden's agenda. By a vote of 68-29 on Sunday, 8.08.2021, the Senate voted to end debate on the final infrastructure product. After months of negotiations, on 8.10.2021 the Senate voted 69-30 – all 50 Democrats and 19 Republicans – to pass the $1.2 trillion bipartisan infrastructure plan that includes $550 billion in new funding for transportation, broadband and utilities. The bill now goes to the House.
Message: My name is _____, my zip code is _____.
I am calling about the Senate Infrastructure Bill.
The bill will be transformational an historic investments in clean transportation and power, broadband, remediation of pollution and resilience to the changing climate. America needs first-rate infrastructure to thrive at home and to be competitive on a global basis;
NOW is the time for both parties to work together to do what is best for all Americans by creating good-paying jobs, tackling the climate crisis and growing the economy for decades to come;
Please vote YES to move forward with this bill and persuade your colleagues to do the same.
Voting Rights are being threatened in many states across the nation. More than 360 bills with restrictive provisions have been introduced in 47 states. We must continue to combat this. Tell our Senators that they must support S-1, the For the People Act and S-4 John Lewis Voting Rights Advancement Act. The House passed the bill on March 8, 2019, by a party-line vote of 234–193. The Senate held a procedural vote to hold a floor debate on June 22, 2021, with all Republicans voting no to debate and all Democrats voting yes to debate – a 50-50 vote along party lines. Thus, SB1 has yet to be voted on and is currently stalled in the Senate. Senators Amy Klobuchar (D-MN) and Joe Manchin (D-WV) have been working on a pared-down version of the For The People Act.
Message:
My name is __________.
My zip code is ___________.

Senator: I'm calling to ask you to vote in favor of SB1 – For The People Act and SB4 – The John Lewis Voting Rights Advancement Act. Senators Klobuchar and Manchin have been working on compromise language regarding the following:

Protecting our voting rights and enhancing election security.
Setting standards so every voter, regardless of their race, age or zip code, has equal access to the ballot box.
Stopping unaccountable secret and special interest money from corrupting our politics.
Strengthening ethics and conflict-of-interest laws for our elected and appointed government officials.
Ending partisan gerrymandering.

Thank you for voting to protect our democracy!
The Filibuster in the past required senators to stand and talk for hours to block voting on legislation. Currently, a senator's staff member can simply send an email for the senator and can hold up legislation just stating in the email that the senator invoked cloture, which is the phrase to say that this is the process by which the senate will need 60 votes – or 2/3 of the senate – to basically use the filibuster. It is no longer a talking filibuster. At this point, it is basically 'pressing a button' where the other side needs 60 votes to pass any legislation. If President Biden and congressional Democrats want to pass their sweeping agenda, they are going to have to change the Senate's filibuster rules.  It is time for the filibuster to be reformed.
Message:
My name is __________.
My zip code is ___________.

Senator: I'm calling to ask you to vote in favor of reforming the filibuster.

Preserving Democracy is far more crucial than preserving the current version of the filibuster which allows senators to take measures 'hostage' with the hopes of securing concessions instead of encouraging compromise.
Consider a carve-out for voting rights as has been done for the budget and judicial nominations.
Consider the original talking filibuster that would require senators to actually talk on the floor of the senate if they want to delay whatever action is taking place.
It is time for the filibuster to be reformed so that partisan gridlock ends.
Please vote FOR filibuster reform.
Thank you for taking the time to hear my concerns over this matter.
National Commission to Investigate January 6th Attack on the United States Capitol Complex Act: Passed the House on 5.19.2021 on a vote of 252-175. Failed the Senate on 5.28.2021 on a vote of 54-35 – needed 60 votes to pass. The bill would have:
created a 10-person commission, with each party getting an equal number of appointments and subpoena power;
tasked the panel with examining "the facts and circumstances of the January 6th attack on the Capitol as well as the influencing factors that may have provoked the attack on our democracy";
tasked the panel to submit specified reports containing findings, conclusions and recommendations to improve the detection, prevention, preparedness for and response to violence and domestic terrorism;
required the panel to hold public hearings and meetings and release public versions of its reports;
ensured congressmembers, staff and Capitol police know what happened and why – we all deserve to know.
Speaker Pelosi has convened a January 6 select committee to investigate the insurrection attack against the U.S. Capitol. After Minority Leader Kevin McCarthy pulled all of his appointees from the commission, Speaker Pelosi appointed all nine members to the commission – including the republicans.
Democratic House members include: Representative Bennie Thompson (MS) is committee chairman; Zoe Lofgren (CA); Adam Schiff (CA); Jamie Raskin (MA); Pete Aguilar (CA); Stephanie Murphy (FL); Elaine Luria (VA). Republican House members include: Liz Cheney (WY); Adam Kinzinger (IL);
The first hearing was held 7.27.2021 as four law enforcement officers who defended the Capitol on 1.06.2021 gave firsthand accounts – being assaulted, overrun, harangued by rioters and describing lingering physical and emotional trauma.
In August, the select committee demanded a tranche of records from more than a dozen social media companies – including industry giants Google and Twitter to pro-Trump fringe websites. The panel has also reached out to 35 private-sector firms, asking them to preserve records that may be relevant to the investigation – including records of congressmembers.
Ohio Senate
Find your Ohio Senator and contact information here:
Fair School Funding Plan: We are concerned that the Republicans will take the 'Fair School Funding Plan' out of the budget.
Please call Sen. Dolan: (614) 466-8056
Please call Sen. Gaverone:(614) 466-8060
Please call Sen. Blessing: (614) 466-8068
Script: "My name is (name) from (city/town), and I am calling in support of keeping the Fair School Funding Plan in the budget.  It is a constitutional solution to school funding – providing for adequacy and equity – to fix school funding once and for all.
*It benefits every school system and provides stability to school district budgets. No district loses funding.
*It allows for more local control as it will bring more state dollars to local communities where they belong. And, it
*reduces the over reliance on local taxes.
Thank You for listening to my concerns regarding school funding.
SB16:  SB16 passed the State Senate 6.02.2021; referred to the State House. This is an anti-protest bill. It would allow organizers and/or organizations to be charged with second-degree felonies if an event they organize is deemed to be a 'riot' – there is no definition of what a 'riot' would be considered. It would criminalize four or more people blocking a street, sidewalk or other public passage, making such action a fifth-degree felony. The bill also criminalizes providing 'material support' including providing bottles of water, food and donations to organizations who organize a protest that turns destructive. It would criminalize citizens who video tape an incident between First Responders and other citizens.
Message:
My name is __________.
My zip code is __________.
I am calling to ask you to oppose SB16.
This bill would encroach on peoples' First Amendment Right – the freedom of speech, assembly, and the right to petition the Government for a redress of grievances.
This bill would not allow citizens to video tape an incident between First Responders and other citizens (i.e. George Floyd incident) which could provide clear evidence of any wrongdoing of both parties.
Thank You for taking the time to hear my concerns regarding this matter and opposing SB16.
SB51: Would raise Ohio's minimum wage to $15.00/hour. The minimum wage would be raised incrementally by $1.00 per year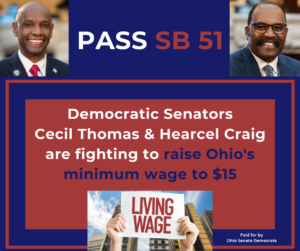 beginning January 1, 2022, every January 1 thereafter and by January 1, 2025 would be $15.00/hour. Every September after 2025, the wage rate will be adjusted. Specific workers who receive tips may be excluded. Please call your State Senator and State Senator Terry Johnson (614-466-8082) to ask him to pass SB 51 through committee.
Message:
My name is __________.
My zip code is __________.
I am calling that I support raising Ohio's minimum wage to $15.00/hour.
All Ohioans have a right to a living wage that will support their families and provide them with more quality time with their families.
Low wages hurt all workers and are particularly harmful to Black workers and other workers of color, especially women of color, who make up a disproportionate share of workers who are severely underpaid.
Thank You for taking the time to hear my concern on this matter and moving this bill through committee for a full vote.
SB87: To create an Asian American and Pacific Islander Commission. Please contact your State Senator and call Senator Kristina Roegner (614-466-4823) to ask her to give SB87 a hearing in her committee.
Message:
Please call Sen. Dolan: (614) 466-8056
Script: "My name is (name) from (city/town), and I am calling in support of my Asian and AAPI neighbors and fellow Ohioans. I am asking you to demonstrate that you care about the more than 350,000 Asian and AAPI Ohioans by supporting the inclusion of the following two budget amendments in the Senate Budget Bill:
*Create and fund the Ohio AAPI Commission and Office of AAPI Affairs to educate the public about AAPI people and cultures;
*Increase funding for Refugee Program services by $100,000 per year through Jobs and Family Services Program Support;
*This commission would help #StopAsianHate in Ohio;
*Thank You for taking the time to hear my concern about this matter.
Ohio House
Find your Ohio House Representative here:
HB89: Current law states that a person carrying a gun in their car must promptly notify a Law Enforcement Officer that s/he is doing so if s/he is stopped. HB89 eliminates the word "promptly." Law enforcement is against this. They believe it puts both the officer and the driver at risk. Officers want to know – and should know – if someone is carrying a gun, so that they can make appropriate decisions in a timely manner.
Please contact your State Representative and State Representative Scott Wiggam, Chair/House State and Local Government Committee: 614-466-147 |
rep1@ohiohouse.gov
Message:
My name is __________.
My zip code is __________.
I am calling in support of responsible gun ownership.
Clear communication between Law Enforcement Officers and citizens must be encouraged in order to keep everyone safe when there are loaded weapons involved.
Support responsible gun ownership and law enforcement responses.
HB-89 creates more risk for both officers and citizens.
State Highway Patrol and Ohio Buckeye Sheriffs Association do not support this bill.
Please vote against this bill in its current form.
Thank You for taking the time to hear my concern about this matter.
HB149/SB80 – Labeling party on Ohio Supreme Court and Appellate Judicial Candidates on ballot; passed the Senate on 4.21.2021; passed the House on 6.23.2021. Signed into law by Governor DeWine. Current law provides exceptions to all Ohio judicial candidates having party affiliation next to name on General Election ballot. SB80/HB149 mandates that only Ohio Supreme Court and Court of Appeals judicial candidates have party affiliation next to name on General Election ballot. The Ohio Judicial Conference and the Ohio State Bar Association for Legal Professionals are against both bills. Current Ohio Supreme Court Chief Justice Maureen O'Connor has pushed to remove party labels from primary judicial races.
HB248: Anti-vaccination legislation would:
Block employers from mandating vaccinations as a condition of employment.
Allow Ohioans to skip any vaccination by making a written or verbal declaration and require health districts, schools or other government agencies to let Ohioans know how they can opt out.
Require schools to explicitly tell parents of existing law that allows them to skip childhood vaccinations because of medical, religious or "reasons of conscience."
Prohibit forcing unvaccinated people to wear masks, be relegated to separate areas or face other punishments.
Allow for civil lawsuits for violations of the bill.
Block health departments, schools or other government agencies from mandating participation in a vaccine registry.
Repeal a requirement that college students be vaccinated against hepatitis B and meningitis before being allowed to live in the dorms.
Message:
My name is _____. My zip code is _____.
I ask you to oppose HB248.
Higher immunization rates help protect everyone against contagious diseases such mumps, whooping cough, measles or tuberculosis.
Those who can't be vaccinated, such as babies who are too young or people with medical conditions, rely on herd immunity that comes with high vaccination rates.
More than 50 business associations, health care groups and hospitals oppose the bill.
Individuals who testified for this bill had absurd, uninformed and dangerous beliefs.
Vote NO on HB 248.
Thank You for listening to my concerns about this bill.
HB 294: Enact Election Security and Modernization Act – This is voter restriction legislation. The GOP has mixed in a little good language to get all the bad language passed.
Bad language includes: HB294 cuts early voting hours by eliminating voting on the Monday before Election Day, makes Voter ID requirements more confusing, severely limits ballot drop boxes and access to absentee ballots, forces most Ohioans to pay for postage on absentee ballots & ballot request forms.
Good language includes: Automatic voter registration and online absentee ballot requests would be permitted which LaRose campaigned he would setup immediately, but hasn't done anything to move this forward.
Message:
My name is _____. My zip code is _____.
I ask you to oppose HB294.
There is no proof of widespread voter fraud in Ohio.
Elections in Ohio will not be more secure by:

making voter ID requirements more confusing
restricting ballot drop boxes
restricting early voting hours by eliminating Monday voting before Election Day or access to absentee ballots

HB294 IS NOT a more reasonable bill compared to HB387. Neither bills are needed. There is almost non-existent voter fraud as only 13 cases were reported out of 5.794 million votes cast – works out to .0002% – during the 2020 presidential election cycle.
Thank You for hearing my concerns about HB294.
HB380 – Enact the Election Engagement Restoration Act: Introduced by Representative Bride Rose Sweeney (D), this bill will repeal the bans on public-private partnerships for voter registration drives; repeal provisions of law regarding court settlements that conflict with the Ohio Revised Code (O.R.C.) and private entities' involvement in election-related activities. On 9.16.2021, this bill was assigned to committee for hearings.
Message:
My name is _____. My zip code is _____.
I ask you to support HB380.
Public-Private partnerships are important for voter registration drives in local communities to ensure that every citizen has his/her voice heard every election.
The current laws regarding court settlements conflict with the Ohio Revised Code (O.R.C.) and private entities' involvement in election-related activities – all laws pertaining to election activities must be consistent.
Please vote yes to support HB380.
Thank You for hearing my concerns about HB380.
HB387 – 'Election Integrity': Introduced and co-sponsored by GOP, HB387 would turn the clock back on nearly everything that has been done over the past 16 years to make it easier to vote in Ohio.
Message:
My name is _____. My zip code is _____.
I am asking you to oppose HB387 – this bill is more extreme than HB297.
The bill would:

do away with drop boxes at boards of elections entirely.
cut the current 28-day early voting period, put in place since 2015, to thirteen (13) days in 2022 and to six (6) days after that.
bring back the requirement that voters provide an excuse such as illness or travel outside the state to cast an absentee ballot – that both Republicans and Democrats alike did away with in 2005.
ban the Secretary of State from mailing out absentee ballot applications to all Ohio voters, as has been the practice in elections in even-numbered years since 2012.

I am asking you to oppose HB387.
Thank You.
HB400 – Prohibits school boards from requiring students to wear masks in school or on buses. From late July to late August, Ohio saw a 351% rise in COVID cases in children. Increasing numbers of children are now being hospitalized, placed in ICUs and put on ventilators.
Message:
My name is ________ My zip code is_______.
I am against HB400 which prohibits public schools from requiring students to wear a mask on buses and at school.
1 out of 3 COVID cases are now affecting children 18 years and younger.
Mask wearing has been proven to lower infection rates.
Local school boards have the right to protect their children and staff.
Do not allow HB400 to proceed out of committee.
Thank You for considering my concerns about HB400.