Are you thinking of running for office? What is involved? What are the requirements? Valuable information is available to assist you in your decision making!
First, please contact your local Democratic County Party here for additional information to assist you with your decision on whether or not to become a candidate.
Thank You for considering to run for elected office! Good Luck!
Don't know what office positions are available this election cycle? Please check here.

CANDIDATE REQUIREMENT GUIDE
The 2018 Candidate Requirement Guide (PDF)
updated on an annual basis,
contains requirements and guidelines for those
who may decide to run for elected office.
This publication is available in electronic format only.

ELECTIONS CALENDAR
The 2017 Elections Calendar and 2018 Elections Calendar
provides dates and information on elections,
campaign finance deadlines and events throughout each year.
Includes Campaign Finance Reporting Dates.
This publication is available in electronic format only.

CAMPAIGN FINANCE REPORTING CALENDAR
Click here for the
2017 Reporting Calendar with Filing Deadlines.
Click here for the
2018 Reporting Calendar with Filing Deadlines.
The Campaign Finance Reporting Calendar contains filing dates throughout the year. Filing entities submitting reports to a county board of elections should contact the board for special election dates and other filing deadlines.
See Ohio Revised Code 3517.10 for complete details of the
timing and requirements for most campaign finance reporting.
CAMPAIGN FINANCE FORMS
Click here for Campaign Finance Forms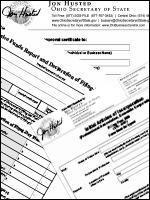 CAMPAIGN FINANCE HANDBOOK
Visit here to view or download Campaign Finance Handbook.
The Ohio Campaign Finance Handbook assists all reporting entities in navigating the various regulatory paths established by Ohio law.  Each of the handbook's chapters discusses specific entity types or areas of campaign finance activity and can serve as a map for the reader to understand each area of regulation and reporting applicable to their circumstance.  This publication is available in electronic format only.
Local candidates and other political entities can also receive filing information from their local county board of elections. For a list of all county boards of elections,
please visit the local county board directory.

Campaign Finance Statutes
Campaign Finance Administrative Rules
Campaign Finance Filing Forms
Campaign Finance E-Filing
CONTRIBUTION LIMIT CHART
Current Limit Chart (PDF)
EFFECTIVE:
FEBRUARY 25, 2017 – FEBRUARY 24, 2019
The Contribution Limit Chart is adjusted for inflation in each odd-numbered year.
This publication is available in electronic format only.
JUDICIAL CANDIDATES
2018 Judicial Candidates Seminars
Above is the notice from the Ohio Supreme Court of training opportunities for judicial candidates offered during the 2018 election year.  Rules of Judicial Conduct require judicial candidates to attend training conducted by the Court.  This information is provided by local Boards of Elections to any person who may take out petitions for a judicial office or a candidate who may form a judicial campaign committee. If you have any questions regarding these seminars,
please contact the Judicial College at (614) 387-9445
QUESTIONS?
If any questions concerning any of the above information,
please contact your local county board of elections
or
the appropriate listed contact as provided above.
Do you have questions about voting?
Ohio Voter Eligibility and Residency Requirements
Voter Registration (Online)
Voter Registration Form (PDF)

Am I registered to vote?
Am I registered at the right address?
Update Your Ohio Voting Address (Online)
Am I registered under my correct name?
Where do I vote?
What do I need to bring with me to vote?
For more information, visit Ohio Secretary of State.
To contact your local county board of elections, visit here.