U.S. House of Representatives – Ohio's 13th Congressional District – (link to come)
Congresswoman Emilia Sykes will represent Ohio's 13th Congressional District. Once room and committee assignments, contact, official photograph and other pertinent information is available, it will be posted.
Born in Akron, Ohio, Emilia Sykes grew up on the city's west side and enjoyed a childhood that was full of competitive gymnastics and ballet, along with the constant support and encouragement of her family and community who she credits for helping to raise her. As a child, Emilia saw first-hand that Northeast Ohio families work hard every day and care deeply about what they do, but too often aren't given the opportunity or level playing field that many others enjoy. That's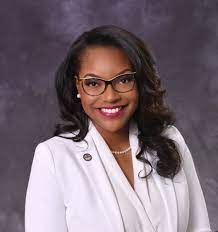 why when she became House Minority Leader she worked with Republicans and Democrats to deliver real results for Ohio's families, businesses, and seniors.
Emilia's parents taught her the values of hard work, never to give up, and that public service means standing up for others because it's the right thing to do, not because it serves your political career. And that means picking fights on behalf of the people against the powerful. They also taught her the importance of a good education. These lessons led Emilia to graduate with high honors from Kent State University with a B.A.in Psychology and later the University of Florida, where she earned a Juris Doctor with a Certificate in Family Law and a Master of Public Health.
Emilia Sykes currently serves as a State Representative in Ohio's 34th legislative district, otherwise known as the "birthplace of champions," where she's served since 2014. She recently finished four years in Democratic leadership, holding the positions of Assistant Whip, Minority Whip and Minority Leader.
As a State Representative, Emilia has worked tirelessly to keep jobs in our state and expand opportunity for working families in Northeast Ohio. She's fought for tax cuts for middle-class and working families, funding for high-speed internet, and higher wages and safer working conditions for Ohio's workers. During her first year as leader, despite serving in the minority, the percentage of bipartisan bills passed was nearly double each of the previous two legislative sessions.
In particular, Sykes' work on domestic violence issues earned bipartisan praise and resulted in her legislation, Ohio HB1, to protect the safety and security of people in violent relationships to become the priority piece of legislation in the 132nd General Assembly.
Unfortunately, too many politicians in Ohio are uninterested in working together and they're standing in the way of progress and opportunity for Northeast Ohio. We can't have a representative in Congress who only looks out for wealthy special interests and peddles wild conspiracy theories that are meant to divide us for political gain.
Emilia is running for the United States Congress because Northeast Ohio needs a fighter who isn't afraid to stand up for them when the powerful and well connected tell her to sit down and embrace the status quo. She's ready to stand up for our jobs, for affordable healthcare and education, and for bipartisan cooperation to actually get things done. Emilia knows that too often working families feel alone–and they shouldn't have to leave the state to find success, safety and security. Emilia will bring a fresh perspective to Washington, and fight for opportunity for every child, senior, and family in Northeast Ohio, regardless of their politics or beliefs.
Prior to serving in the state legislature, Sykes worked as Administrative Staff Advisor at the Summit County Fiscal Office, where she helped to create a county land bank to repurpose vacant and abandoned properties, and as a Law Clerk to the Chief Judge of the U.S. Bankruptcy Court in the Northern District of Georgia.
Rep. Sykes has received numerous awards for her advocacy, including the Legislator of the Year from the Ohio Minority Business Enterprise, the Champion for Children award from Summit Children's Services, the EMILY's List Rising Star award, and 30 for the Future award from the Greater Akron Chamber of Commerce.