The Select Committee has referred former president Donald J. Trump to the Department of Justice on four (4) criminal charges, including obstruction of an official proceeding, conspiracy to defraud the U.S., conspiracy to make a false statement and "incite," "assist" or "aid or comfort" an insurrection.
The panel also announced the referral of criminal charges against former Trump lawyer John Eastman for his efforts to disrupt the 2020 election.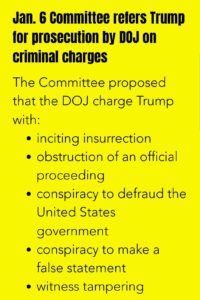 The panel on Monday also voted to refer House Minority Leader Kevin McCarthy (R-Calif.), Representatives Jim Jordan (R-Ohio), Scott Perry (R-PA) and Andy Biggs (R-Arizona) to the House Ethics Committee for ignoring the panel's subpoenas. They are charged with violating House rules requiring members to conduct themselves "at all times in a manner that shall reflect creditably on the House."
Read the Executive Summary here.
This summary is introductory material to the final report of the Select Committee.
Read the final report here.
Read the Criminal Referrals to the Department of Justice here.
RELEASE OF SELECT COMMITTEE MATERIALS
Washington—The Select Committee made public transcripts of witness testimony that was gathered over the course of the Select Committee's investigation into the January 6th attack on the U.S. Capitol. These records can now be found on the Select Committee's website.
Additional remaining public Select Committee transcripts and other information about witness testimony:
MAJORITY COMMITTEE MEMBERS