Volunteers now have petitions! Despite what the GOP ad says – The proposed amendment language has nothing to do with gender reassignment surgery. Every registered Ohioan should have the right to vote yes or no on this issue by placing it on the November 2023 General Election ballot. Every individual has a right to make and carry out one's own reproductive decisions, including but not limited to decisions on: contraception; fertility treatment; continuing one's own pregnancy; miscarriage care; and abortion. The full text of the proposed amendment language is available to read.
The Ohio Ballot Board – members include Ohio Secretary of State Frank LaRose (R), State Senator Theresa Gavarone (R-SD2), State Senator Paula Hicks-Hudson (D-SD44), William Morgan (R) and Elliot Forhan (D) – unanimously approved of the ballot language for 'The Right to Reproductive Freedom with Protections for Health and Safety' submitted by Protect Choice Ohio. The approval means that petitions can now be printed, distributed and signatures can start to be collected.
The next step will be to collect a minimum of 413, 488 valid signatures from at least 44 of Ohio's 88 counties. To ensure enough signatures will be valid, a total of at least 700,000 raw signatures will be the goal to collect. Petitions must be submitted to the Ohio Secretary of State by July 5, 2023. A deadline will be posted for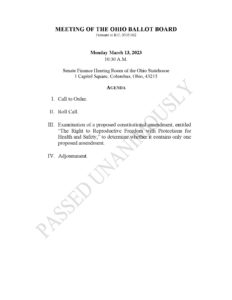 all petitions to be submitted to a regional volunteer in the near future to ensure all petitions and signatures are submitted in a timely manner. If you are interested in assisting with the signature gathering, contact your county party chair for more information. For a signature collection event near you, visit here.
Since this is a non-partisan issue that would be on the 2023 November General Election ballot, Democrats, Republicans and Non-Affiliated Ohio registered voters may sign petitions.
If you are currently residing in Ohio, not a registered Ohio voter and would like to sign a petition, you may register to vote at the same time you are signing a petition. Volunteers collecting signatures will have voter registration forms.
Whether you are pro choice or not, this issue was kicked back to the states by the U.S. Supreme Court when it overturned Roe versus Wade last year. The voters of Ohio should have a say about reproductive health access instead of politicians. The only way to have our voices heard – whether voting yes or no, is to put this issue on the ballot and allow Ohioans to exercise our right to vote.
If you would like to help collect signatures, please contact your local county party chair here. For a signature collection event near you, visit here.
2.21.2023 – Full Text – Proposed Amendment
2.21.2023 – Summary – Submitted to Ohio Attorney General
For additional information, please visit here.