Ohio Republicans introduced a new resolution today that purposely makes it more difficult for citizens to amend the state Constitution. Republican Secretary of State Frank LaRose and state Rep. Brian Stewart (R-Ashville) put forward the "Ohio Constitution Protection Amendment," which is "designed to help protect the Ohio Constitution from continued abuse by special interests and out-of-state activists." There is no evidence that Ohio is being overrun by out-of-state special interest groups that are trying to capture Ohio's Constitution.
Ohio citizens are able to bypass the legislature in order to create policy through a ballot issue in two different ways; an initiated statute or a constitutional amendment.
LaRose says he wants to raise the threshold of how much support should be required from voters in order to amend the state constitution, from a simple majority to a three-fifths majority, or 60%. "Something as serious as amending our constitution should really demand the kind of consensus necessary to get to 60%," LaRose said.
Rep. Brian Stewart (R-Ashville) is sponsoring the resolution, which would need to pass the Ohio House and the Ohio Senate by the end of this year in order to be placed on the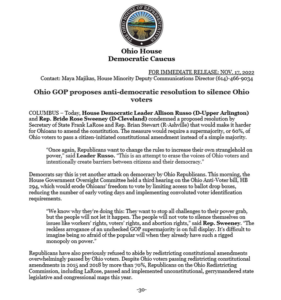 May primary ballot.
The resolution would only apply to citizen-led constitutional amendments. A constitutional amendment placed on the ballot by the Ohio General Assembly through a resolution, like Stewart's, would only need a simple majority — or 50% plus 1 — in order to pass.
With a Republican supermajority in the House and Senate, community activists are criticizing the move as a way to weaken the voice of people who disagree with the party in control.
Dennis Willard, communications director of We Are Ohio, has a long history of working on ballot issue campaigns. The We Are Ohio campaign successfully repealed SB5 in 2011. Willard also worked on campaigns for constitutional amendments to reduce drug prices, reform criminal drug offenses, and to legalize marijuana — all of which did not pass the simple majority that's currently required. Willard said ballot issues gives citizens a right to "direct democracy" and that the proposal from LaRose weakens that right. "I absolutely believe it's a power grab. They want to take the power away from the voters and they want to control everything," said Willard.
LaRose said this would only apply to constitutional amendments and that, if citizens are worried about their ability to enact change in policy, they can still propose an initiated statute with a simple majority. An initiated statute is a longer process that gives legislators a chance to pass a law drawn up in a citizen petition, if they don't pass it, then it can go to the ballot. If it passes, that becomes a part of the Ohio Revised Code and not the state constitution.
Steven H. Steinglass, Cleveland State University College of Law dean emeritus, doesn't understand what groups the two politicians are talking about. "I don't think there's any evidence that we're being overrun by out-of-state special interest groups that are trying to capture the Constitution," Steinglass said. "I view that proposal as a solution in search of a problem."
He isn't the only one who feels this way. Some activists, like Catherine Turcer with Common Cause Ohio, say this would make it significantly harder for Ohioans, regardless of political affiliation, to have their voices heard. "It's just like putting your hand on the scale making it even harder for citizens to challenge the authority of the state legislature," she said. "And direct democracy is about a check on the state legislature."
"There hasn't been a citizen initiative since 2018," she said. "In other words, we haven't had one on the ballot for a really long time." That 2018 initiative was about the redistricting process, which was supposed to focus on preventing gerrymandering. But loopholes existed, and the system could be exploited, Turcer said. A new one could possibly be in the works. "We're talking about the need to do a citizen initiative to take the mapmaking away from elected officials and create an independent commission," she said. "The only reason to do this is to thwart the will of the people and to retain power — and the power to gerrymander," she added. She found it suspicious that LaRose, who was one of the members of the Ohio Redistricting Commission, is in such a rush to put this forward as new maps are supposed to be drawn this coming year.
The Ohio Redistricting Commission continually passed maps that were struck down as unconstitutional by the Ohio Supreme Court. The Ohio Supreme Court rejected legislative maps for being unconstitutional and gerrymandered for a fifth time in May. In the bipartisan majority statement, O'Connor said the Republicans "engaged in a stunning rebuke of the rule of law" by refusing to create legal maps. The congressional maps have been rejected twice and are still going through the legal process.
The proposal comes at a time when several other issues could possibly be put on the ballot, including an amendment to protect abortion rights and another to legalize recreational marijuana.
This is not a Democrat versus Republican issue: it's a citizen versus lawmaker issue.