Following knock-down, drag-out fights over congressional and legislative maps, Republican lawmakers are turning their attention to redrawing the state's appellate court district lines − either this year or next legislative session.
Is it time to redraw Ohio's appeals court
district lines? Some Republicans say yes
Laura A. Bischoff | The Columbus Dispatch | 9.20.2022
House Majority Floor Leader Rep. Bill Seitz, R-Green Township, and state Rep. Jason Stephens, R-Kitts Hill, a first-term lawmaker now running for Ohio House speaker, are circulating a proposed plan among judges that changes district lines and adds three judgeships.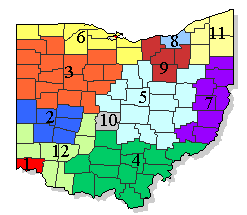 Appeals courts are usually the last stop for criminal and civil cases since the Ohio Supreme Court only considers a small fraction of cases each year. New appellate district lines could change the political makeup of each court and shift the kinds of decisions made.
In the past, appellate judicial candidates ran on nonpartisan ballots but that changes this year. Ohio Supreme Court and appellate court candidates will have Republican or Democrat after their names.
Ohio Judicial Conference Executive Director Paul Pfeifer, a retired supreme court justice, said the reception to the Seitz-Stephens proposal has been "less than enthusiastic" among judges. But Pfeifer agrees that it may be time to examine the district lines.
The last change to the system came in 1989 when Ohio added a twelfth district.
"We cannot just keep on keeping on, adding judges, leaving these lines in place without ever looking at the overall right-sizing of the judiciary," said Seitz, who criticized the Ohio Supreme Court's redistricting decisions.
Each appellate district has between four and 12 judges, depending on caseload and district size. Data collected by the Ohio Supreme Court shows the proposal would shift the per judge caseload for each district, including a 51% increase in the 7th District based in Youngstown and a 41% drop in the 5th District based in Canton.
The Seitz-Stephens proposal would add Brown and Clermont counties to the 1st District, which could potentially make it a more conservative court. The 1st District now only includes Hamilton County. Some Republicans vehemently oppose a 1st District decision on bail that was affirmed by the Ohio Supreme Court.
"Obviously the 1st District has gone from a very fine appellate court to a very liberal appellate court," Seitz said. Some people in Clermont County favor adding that county to the 1st District to make it more competitive for conservative judicial candidates, he said.
He said in the 10th District, qualified Republican judges don't want to run in Franklin County, which has trended blue in recent years. "We're concerned about the loss of appellate talent in the 10th District as well," Seitz said.
Seitz, though, supported adding partisan affiliation to appellate and supreme court candidates on the ballot. "But I would've liked to have not done that at the appellate level for single county appellate districts."
The three single county appellate districts are each in heavily Democratic counties.
Judge Pierre Bergeron, who joined the 1st District Court of Appeals in 2019, said "The question is: Is this in the best interest of the court system, an independent judiciary, the taxpayers and citizens? I haven't seen any evidence that it is."
What is the Ohio Court of Appeals
The District Courts of Appeal are the intermediate appellate courts for the state of Ohio. The courts are established by Article IV, Section 1 of the Ohio Constitution, and their jurisdiction is outlined in Article IV, Section 3.
Twelve districts make up the District Courts of Appeal, and each district is assigned a certain number of counties. The number of judges in each district varies by caseload and population, but each district has between four and 12 judges.
Judges hear and decide cases in panels of three.
Jurisdiction
The District Courts of Appeal primarily hear appeals from the Common Pleas, Municipal and County courts. They also have original jurisdiction to hear applications for writs of habeas corpus, mandamus, procedendo, prohibition and quo warranto.
The 10th District, based in Franklin County, has special jurisdiction to hear appeals from the Ohio Court of Claims.
Judicial Selection
Judges in Ohio serve six-year terms. As of January 2022, they are selected through partisan primaries and partisan general elections. Previously, these judges were selected through partisan primaries and nonpartisan general elections, known as the Michigan method. Judges must face re-election if they wish to continue serving. Elections take place in even-numbered years. In case of a vacancy, the governor appoints a judge. To continue serving, interim judges must run in the first general election taking place at least 40 days after the position became vacant. However, if a departing judge's term ends within one year of the next general election, the interim judge instead serves the remainder of the term.
Qualifications
To serve on the Ohio District Courts of Appeals, a judge must:
be a resident of his or her district;
be attorneys with at least six years of experience in the practice of law;
be under the age of 70.