'Steady and principled leadership of the state's highest court is essential' as Justice Jennifer Brunner announces her candidacy for chief justice of the Ohio Supreme Court in 2022.
Official website: Justice Brunner
Contributions: Please note that judicial candidates
cannot accept any contributions until a specific date. A link for contributions will be posted as soon as available. Thank You!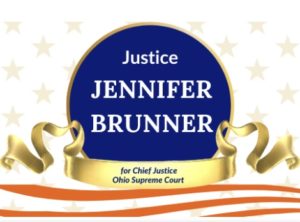 6.08.2021 – Today I announce that I'm running for Chief Justice of the Ohio Supreme Court in 2022.
Last year so many of you did an amazing job during a once-in-a-century pandemic to let Ohio voters know about our campaign for the Ohio Supreme Court.  Thanks to your efforts, we won big–with 2.69 million votes.  I'm grateful every day for what you did.
Already, I know our work has made a difference.  While the responsibilities are great, I see so many opportunities to use the law to help people overcome injustices with thoughtful courts at every level dedicated to using and strengthening the rule of law.
The Ohio Supreme Court has accomplished much, and there is a clear path ahead we can build on to grow new programs in tandem with efforts already underway, such as the Task Force on Conviction Integrity and Postconviction Review.  This task force is just one avenue to identify and assure equality in the courts for all of those whose lives are touched by its work.
Administrative and policy leadership–the responsibility of the Chief Justice–is not about an ideology of who should win and who should lose.  It is about leading the court and bringing people together, and demonstrating to the public that courts can be as effective as people believe they should be.
I know that courts can do good things for people—protect their health, safety and welfare—with fairness, equality and respect.  And I am committed to doing this every day now and as Chief Justice of the Ohio Supreme Court.  I am further committed to using the power of the court to help lift the vision of all judges of the state to focus on why we serve and the power we have to do good for all Ohioans.
I hope you will join me by signing up to be a campaign volunteer as I work to be elected Chief Justice of the Ohio Supreme Court in 2022.
Thank you.


Justice Jennifer Brunner
Candidate for Chief Justice, Ohio Supreme Court
ARTICLES